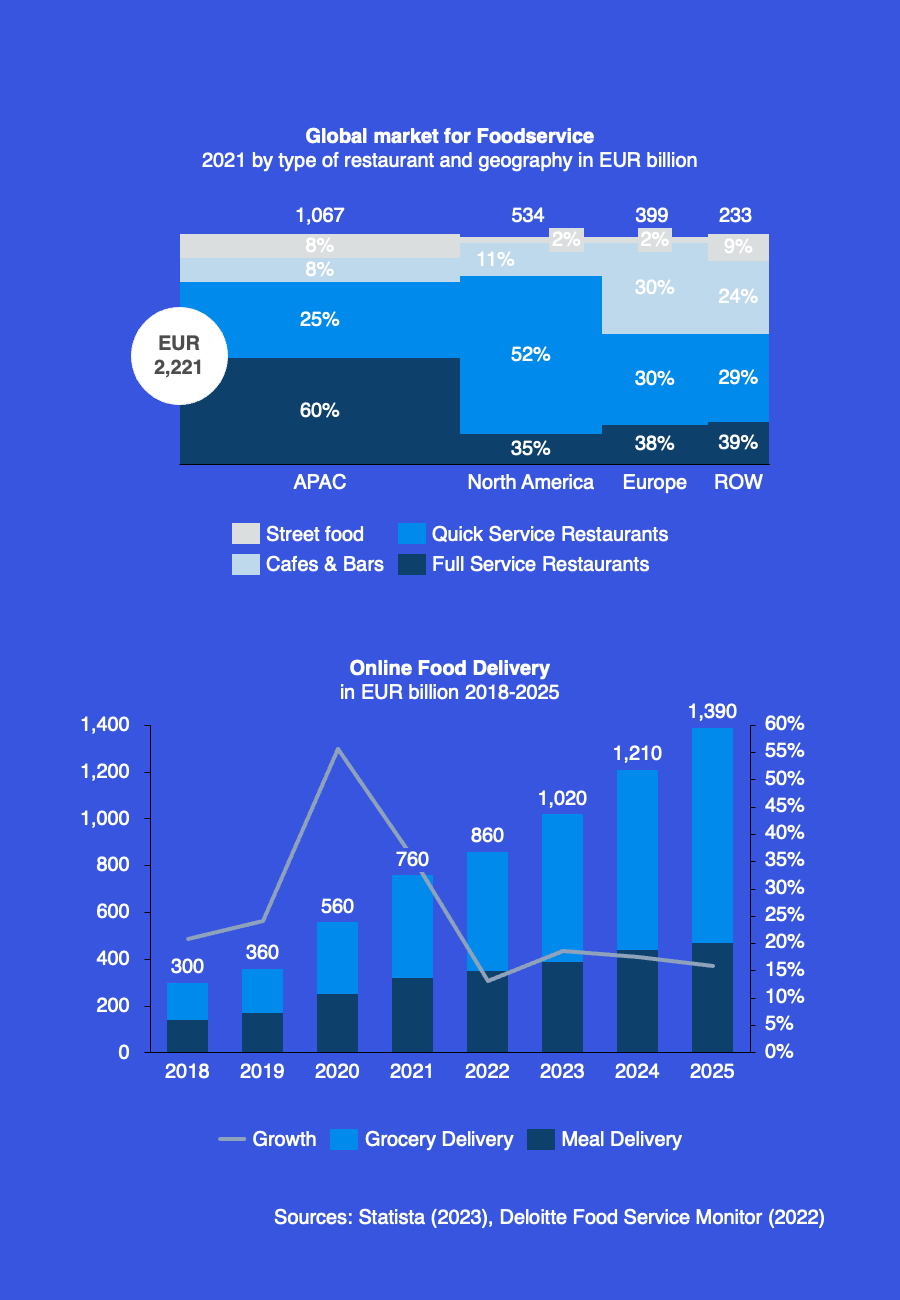 GLOBAL MARKET - FOODSERVICE
The Foodservice market amounted to around EUR 2,221 b in 2021, with APAC taking up 48% of the global market share, while in 2019 North America and Europe were of more similar sizes, the European market shrunk significantly more during the pandemic. In the U.S. Quick Service Restaurants (QSR) continue to be the most popular type while in Europe the different Foodservice concept's (QSR, FSR, Café & Bars) shares are more balanced.
The Online Food Delivery market, which experienced rapid growth during the pandemic, cooled down in 2022 but is expected to grow at a still significant pace during the next few years.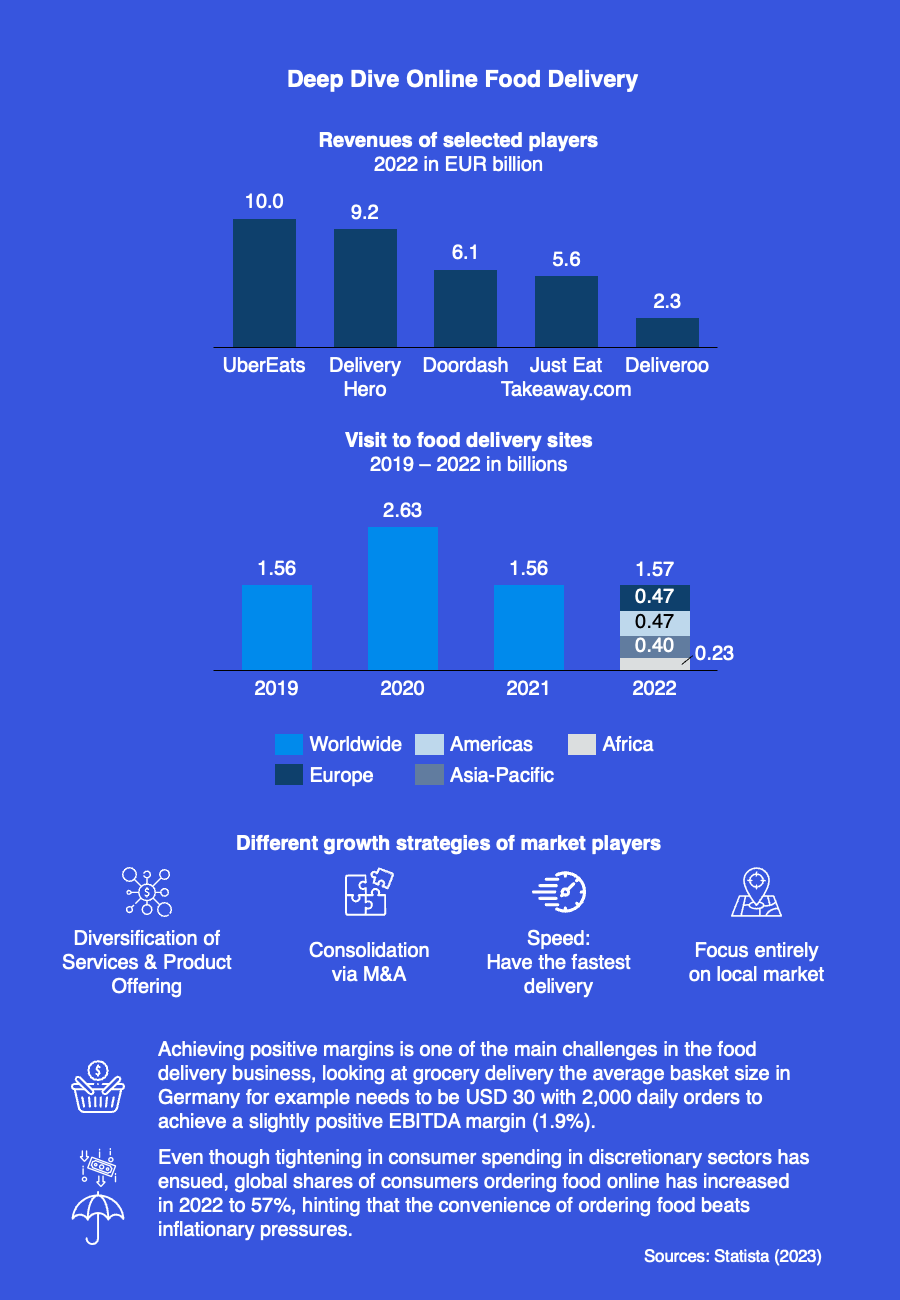 LATEST TRENDS
As the global Foodservice market was hit during the pandemic, the different types of restaurants and their market volume are expected to recover differently. While QSR provider have already reached pre-pandemic levels in 2022, FSR and Street Food are expected to fully bounce back in 2023 with the market anticipating that Cafes and Bars will have grown back to or above 2019 levels in 2024.
The next few years will proof decisive for many players in the online food delivery business (e.g. UberEats, Deliver Hero), whether they can stay independent, merge with or acquire a competitor. Food delivery worker's rights protection has increased worldwide and restrictions by some European countries on ghost kitchens are only a few of the challenges on the road to profitability. 
Ghost kitchens or Kitchens as a Service (KaaS) have been challenging the delivery traffic of traditional restaurants of all forms. The no-dine restaurant concept, allowing non-food brands to leverage their strong follower base and create a branded menu and delivery experience has been disrupting the scene even stronger during the pandemic. At the same time, loyalty seems to be challenging within this segment. 
M&A activity in the QSR sector has been rather resilient in comparison to other industries after reaching highs in 2022 and especially 2021. With recorded multiples having declined to around pre-pandemic levels again, the rise in operational costs and mounting competition, the bigger players will most likely keep up the consolidation in the sector and search for innovative business models with potential for optimisation through incorporation into larger and more stable supply chain structures.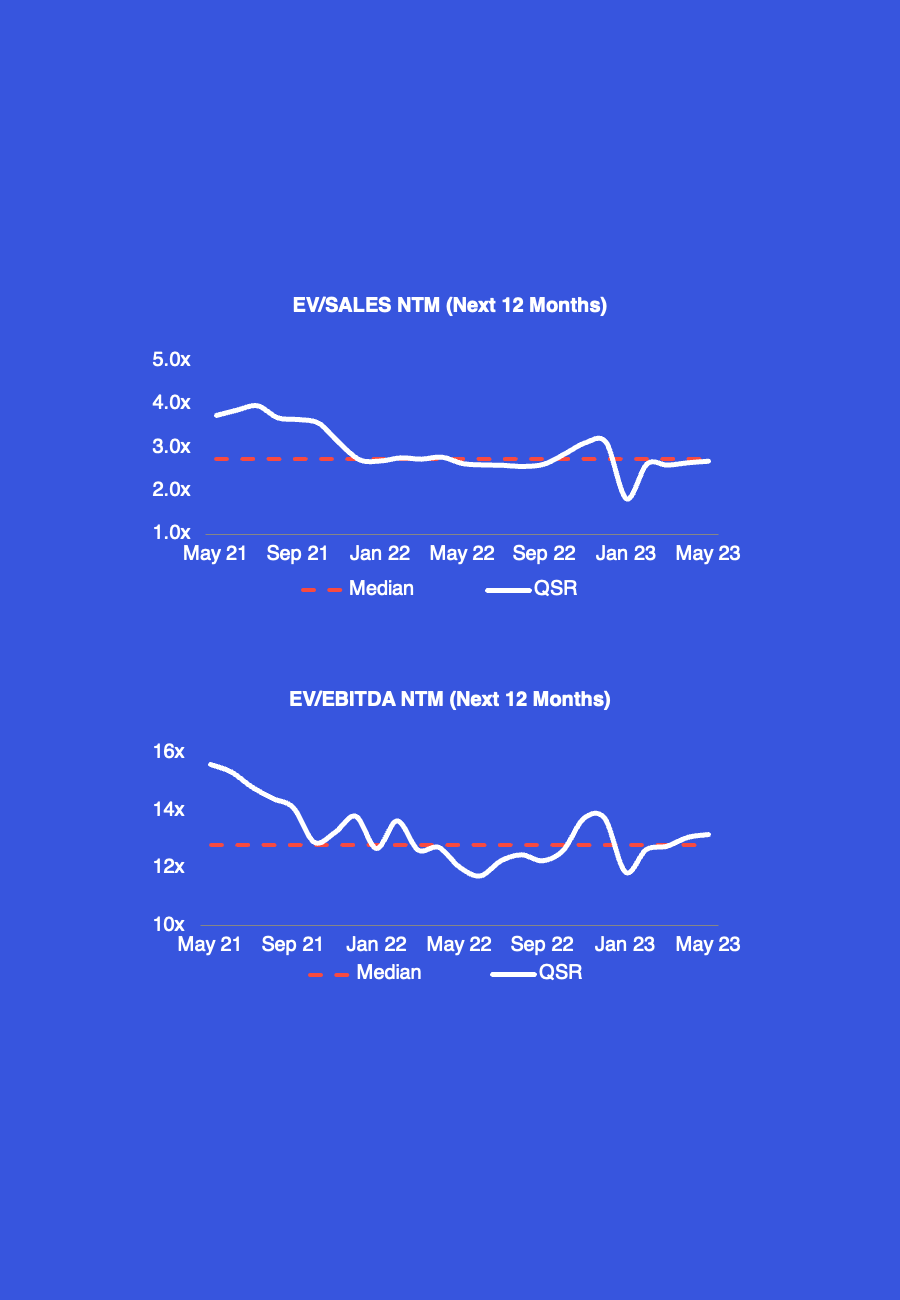 VALUATIONS QSR MARKET
After the high valuations during the second half of 2022 and early 2021, EV/Sales multiples have significantly cooled down again and have been hovering around 3.0x for over a year.
The EV/EBITDA multiples display a similar picture, however, slightly more volatile. We reason price pressures throughout the supply chain and delays in passing-on costs to consumers have impacted QSR's EBITDAs.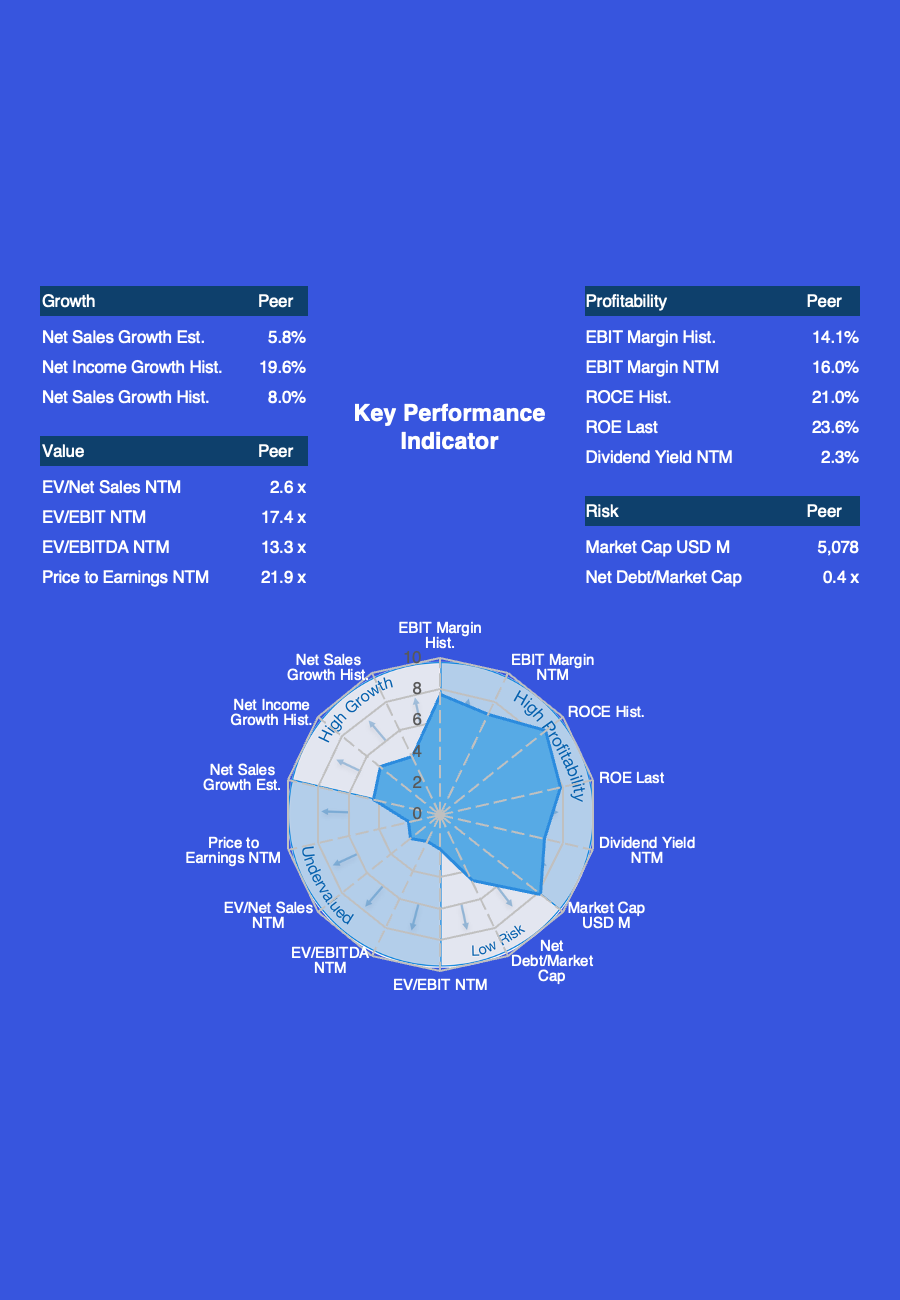 KEY PERFORMANCE INDICATORS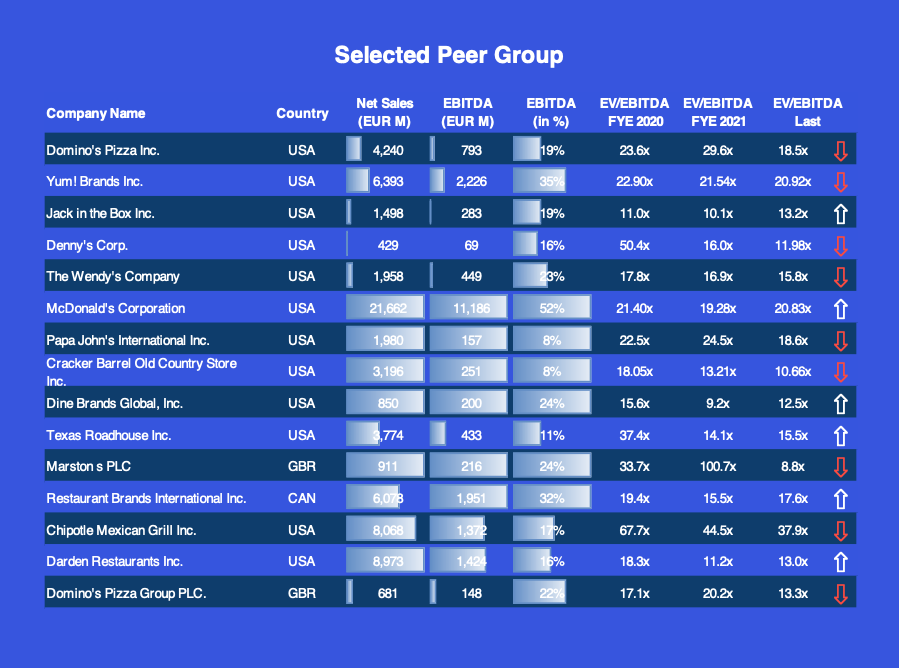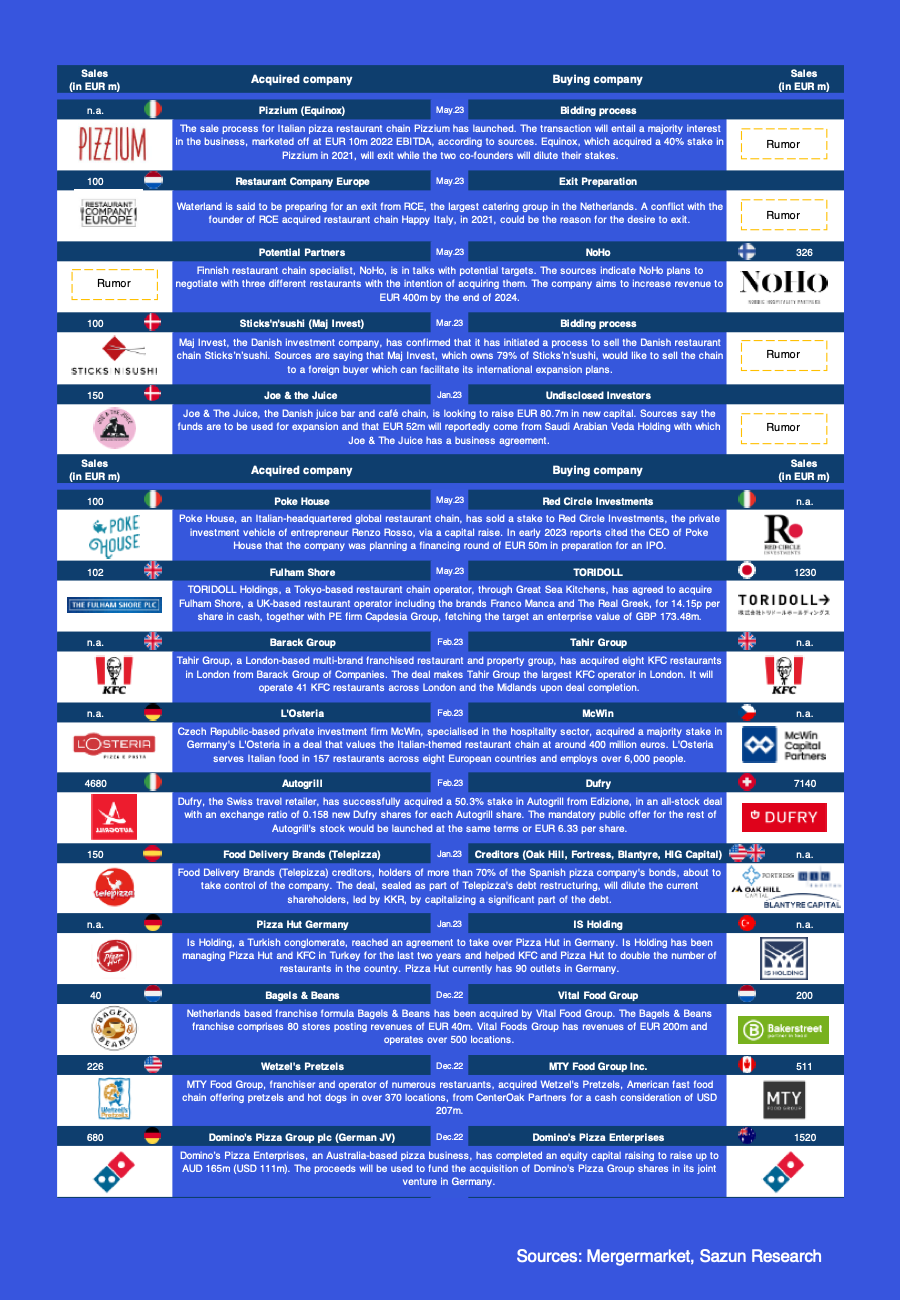 WANT TO KNOW MORE?
If you would like to learn more about the valuations and deals of your industry, the transaction mentioned above, or generally our way of working, we would certainly be happy to demonstrate our m&a PLUS® principle in a confidential meeting. Just get in touch and we will share our experience on how to grow businesses with long-lasting partnerships.