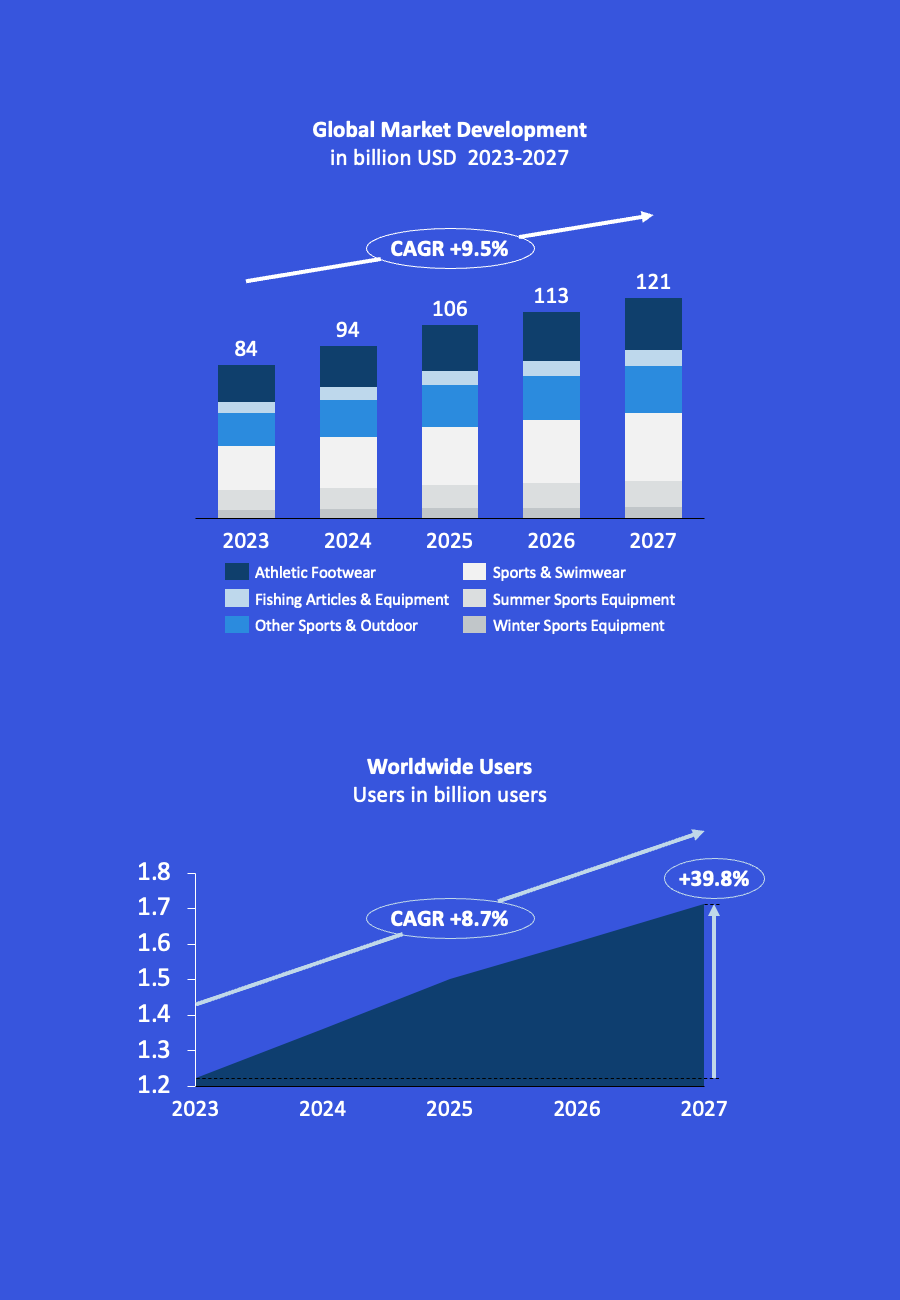 SPORTS & OUTDOOR MARKET
The global market in the Sports & Outdoor segment is expected to reach $120.70 billion in 2027, showing an annual growth rate of 9.5%. Most revenue will be generated in China ($42.28) and in the United States ($37.41) by 2027.
In the Sports & Outdoor sector, the number of users is expected to steadily grow to 1.71 billion by 2027, compared to 1.23 billion users in 2023. The average revenue per user (ARPU) is expected to amount to $70.45 in 2027.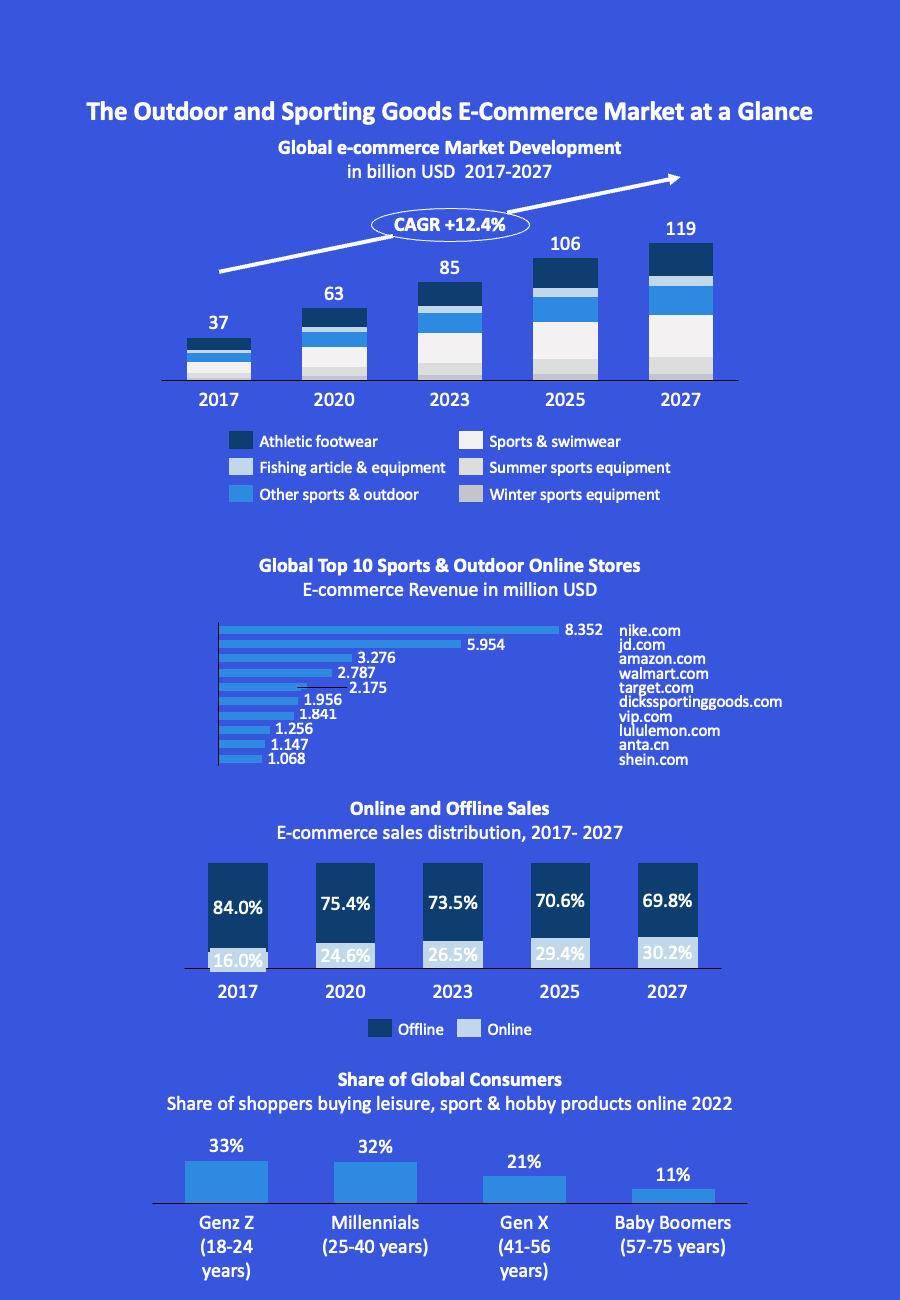 LATEST TRENDS IN THE MARKET
Sustainability – Consumers are increasingly concerned about the environmental impact of their purchases within the outdoor industry in recent years. Statista's global consumer survey showed that 22% of the consumers would stop buying a product or brand due to sustainability issues. Top 3 sustainability criteria in purchase are durability, environmentally friendly materials and environmentally friendly packaging.
Technology Integration – Outdoor activities are increasingly going digital driven by advances in technology. Approximately 78% of outdoor activities usually use technical devices during their activities, in most cases a smartphone. It satisfies the consumers' desire to stay connected and share their experiences. Apps are increasingly important and used in 53% of outdoor activities to keep track of activities and record performance data.
Adventure Travel – The popularity of adventure travel (e.g. water rafting, biking, mountain climbing etc.) has grown significantly in recent years, with people seeking out new and exciting experiences. Companies in the outdoor industry are responding by offering guided tours and experiences that cater to this trend.
Diversity and Inclusion – The outdoor industry is becoming more inclusive, with companies striving to appeal to a broader range of customers. This includes developing products that cater to people of different genders, ages, and ethnicities.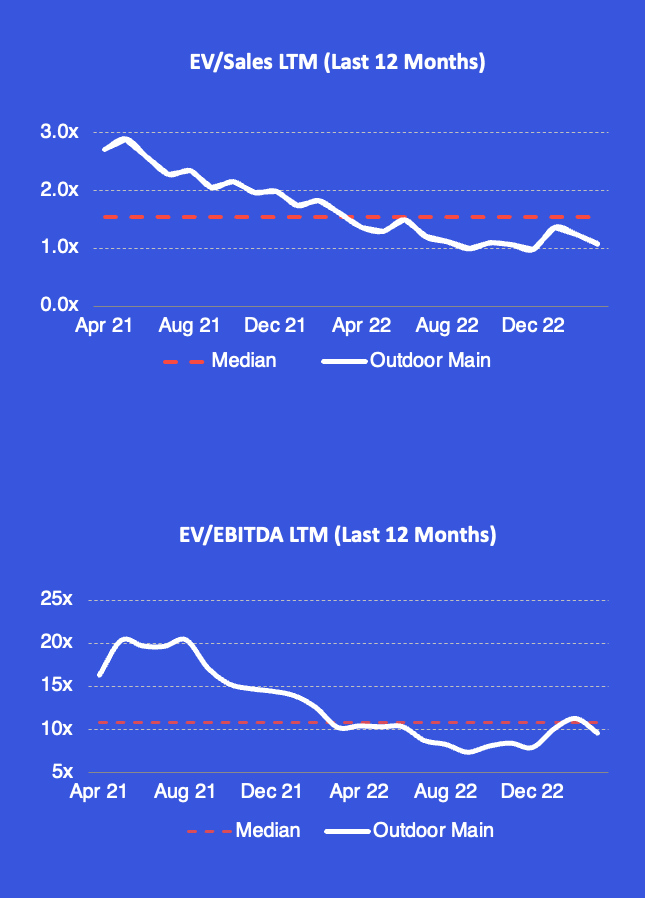 Valuations Outdoor Market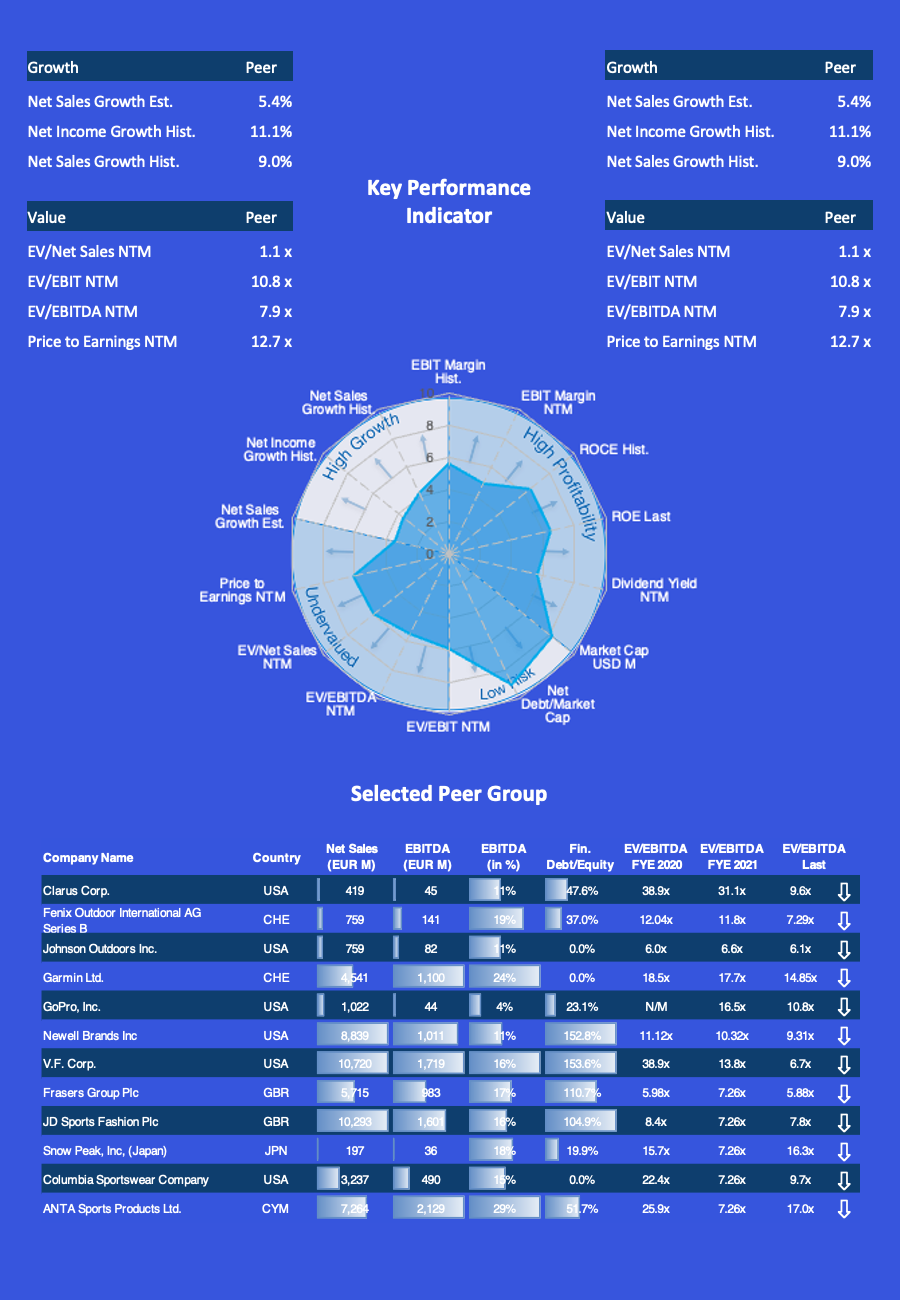 Key Performance Indicators
&
Peer Group Analysis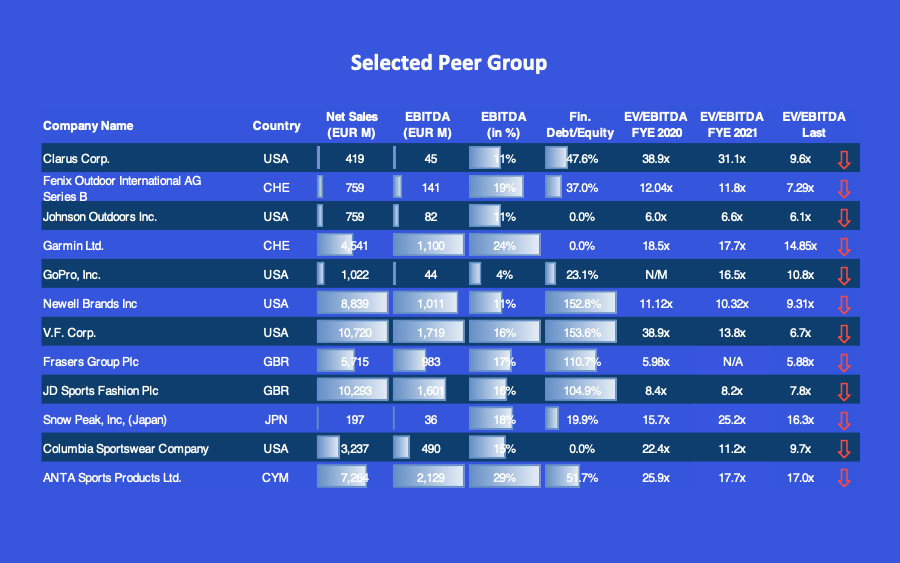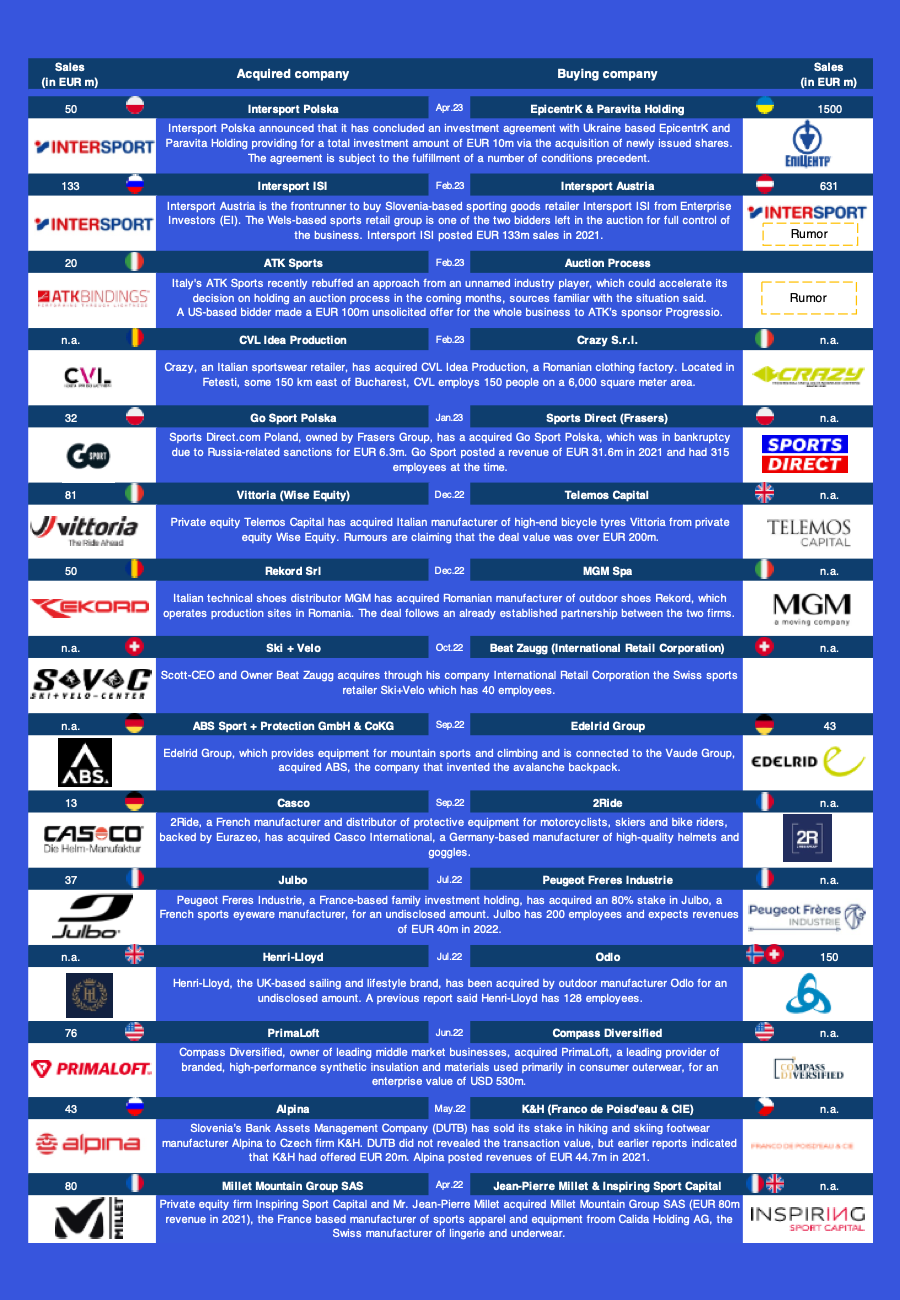 M&A Transactions
Selected M&A Transactions in the Outdoor & Sports Industry in the Past 12 Months
WANT TO KNOW MORE?
If you would like to learn more about the valuations and deals of your industry, the transaction mentioned above, or generally our way of working, we would certainly be happy to demonstrate our m&a PLUS® principle in a confidential meeting. Just get in touch and we will share our experience on how to grow businesses with long-lasting partnerships.